You can click on a picture to zoom it.
OFFER / Orchard Sledge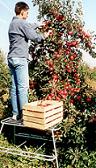 Orchard sledges are used mainly for fruit harvesting as well as for cutting and forming tree crowns, thinning out seedlings and other work typically carried out in orchards.
With light and sturdy design, the sledge can be used both for supporting and transporting fruit crates.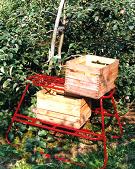 Available Models
| | | | |
| --- | --- | --- | --- |
| version | low | high | with a superstructure |
| small | SM | SMW | -- |
| large | SD | SDW | SD-N* |
| with steps | SCH | -- | SCH-N |
| all-purpose | SU | SUW | -- |
* The SD-N model is available in two versions:
with a superstructure in the middle or on the side of the platform
Technical Characteristics
| | | | | | | |
| --- | --- | --- | --- | --- | --- | --- |
| model | platform width (cm) | total width (cm) | platform length (cm) | total length (cm) | height (cm) | weight (kg) |
| SM | 35 | 75 | 70 | 96 | 71 | 8.5 |
| SD | 35 | 75 | 100 | 125 | 71 | 11 |
| SD-N | 35 | 75 | 100 | 125 | 71/99 | 13.5 |
| SMW | 35 | 85 | 70 | 145 | 99 | 14 |
| SDW | 35 | 85 | 100 | 136 | 99 | 15.5 |
| SCH | 35 | 75 | 93 | 150 | 74 | 14 |
| SCH-N | 35 | 75 | 93 | 150 | 74/99 | 16 |
| SU | 35 | 70 | 85 | 125 | 71 | 10.5 |
| SUW | 35 | 82 | 85 | 125 | 99 | 13 |