You can click on a picture to zoom it.
OFFER / Herbicide Booms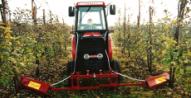 Herbicide booms are used for weed eradication in fruit tree and fruit bush rows and interrows. With its innovative design, the boom provides the highest convenience, saves time and reduces the volume of herbicides and working fluid used.
Technical Characteristics
A special cover has been provided to aid your efficiency by bending bushes, protecting low hanging tree and bush branches from sprayed herbicides.
With tilted elements, the boom provides protection from sprayed herbicides for trunks and sprouts of even very young trees or bushes, and it is resistant to damage.
The boom is equipped with a main shut-off valve as well as valves for shutting off individual nozzles.
An average liquid consumption at 0.3 MPa pressure, 6 km/h travel speed and 0.2 mm nozzle diameter is approx. 300 l/ha.
A wide selection of attachments enables work with any type of tractor.
With a protective hood, the boom is suitable for spraying currant bushes and many other fruit bushes.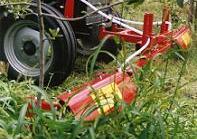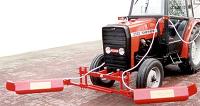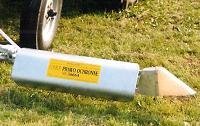 Available Versions
single-sided version
double-sided version
no. of nozzles
average working width (m)
no. of nozzles
average working width (m)
2
0.8
2
1.6
3
1.1
3
2.2
4
1.4
4
2.8
Wheeled Herbicide Boom
It is particularly useful in orchards located on a diverse terrain.

The wheels are to keep the boom always at the same height regardless of the tractor's tilt (with even spray distribution).
The boom is also suitable for suspended applications.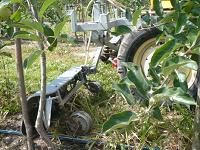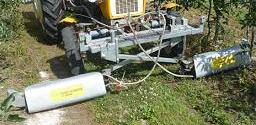 Available versions
single-sided version
double-sided version
no. of nozzles
average working width (m)
no. of nozzles
average working width (m)
3
1.1
3
2.2