About Us
The company has been established in 1994. Our activity is focused on the production of orchard equipment.
Since its establishment, the company has succeeded by providing high-performance quality products, combined with extensive advertising and customer care.

Today, our equipment is popular not only at home, but also in several other European countries (including Austria, Bulgaria, Spain, Germany and Ukraine).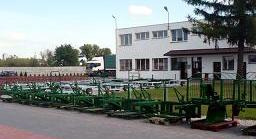 Our offer includes herbicide booms used for eradication of weeds, tree and bush planters, tippers and carts for handling box pallets. Our production and office space covers an area of over 1,000 m2 with a total of 15 people employed.